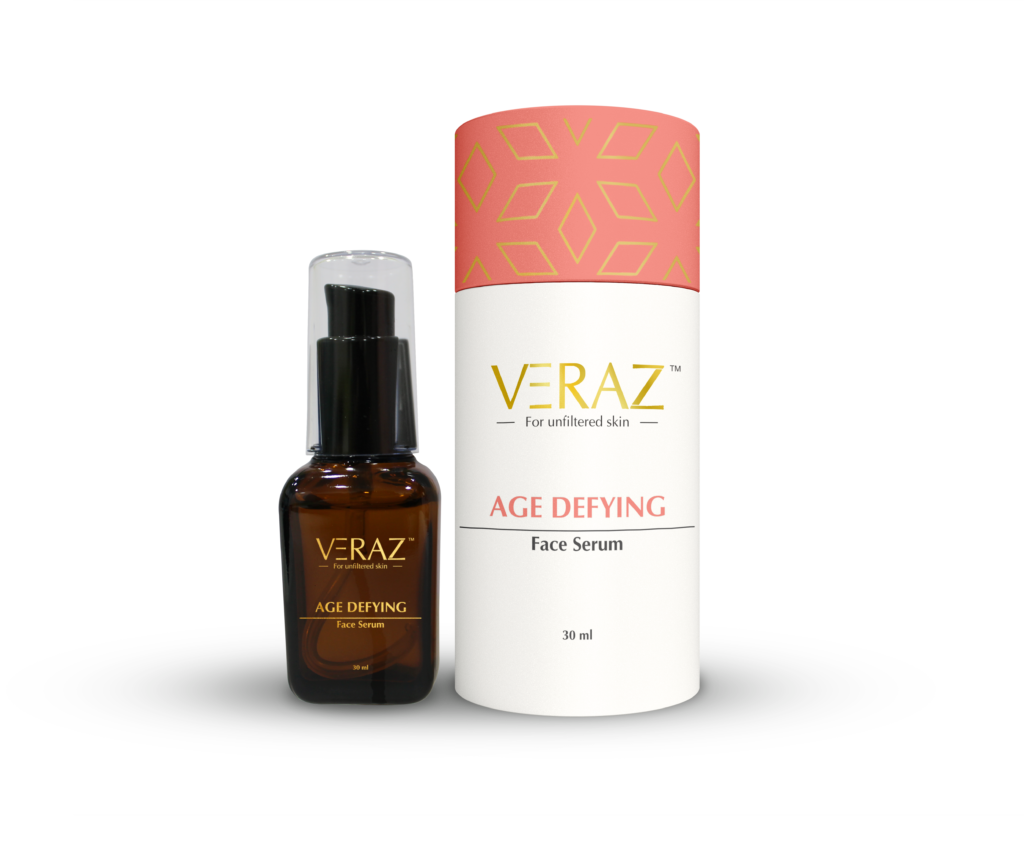 VERAZ AGE DEFYING FACE SERUM
Our skin ages with time and one of the main reasons is depletion in the collagen levels of the skin.


Veraz Age Defying Face Serum is power packed with 3 internationally patented actives which not only boost the synthesis of collagen 1 but also work on other skin rebuilding essentials to provide optimum efficacy and maximum benefits. It also contains patented osmolyte for the moisturizing effect.
Reduction in fine lines and wrinkles
Evens out skin relief and smoothening of skin
Promotes natural barrier function
Long term hydration and moisturization
Improves skin elasticity and promotes skin tightening
Marine Filling SpheresTM
Dehydrated microspheres of Marine atelocollagen and Marine chondroitin sulphate
Smoothens the skin surface
Fills in wrinkles
Long term hydration
Pro-Coll-One+®
Benchmark ingredient in collagen 1 synthesis
A natural molecule extracted from Soya
Powerful and targeted effectiveness
Smooths microrelief
Strongly reduces crow's feet wrinkles
Matrixyl® Syneth 6
Powerful antiwrinkle matrikine mimetic peptide
Stimulates the synthesis of 6 skin rebuilding essentials – Collagen I, III & IV, Fibronectin, Hyaluronic acid & Laminin-5
Helps fill in wrinkles
Evens out skin relief
Reduces the length, depth & surface area of the wrinkles
Genencare® OSMS BA
Moisturizing osmolyte for skin care
Controls water balance
Helps protect proteins against denaturation
Do a patch test prior to application
Avoid contact with eyes
Rinse eyes with plenty of water in case of contact
Frequently Asked Questions
Veraz Age defying face serum can be applied anytime during the day. Take the appropriate quantity, dab it on face and massage well till it absorbs
The recommended age to start using the serum is 25 years and above
Yes, it is suitable for all skin types but not suitable for extremely sensitive skin. The serum is non-comedogenic and safe for use in acne-prone skin
It is recommended to use single serum in a day , 2 serums can be applied alternatively
Daily application will show visible results within a month
Store in cool and dry place, away from the direct sunlight