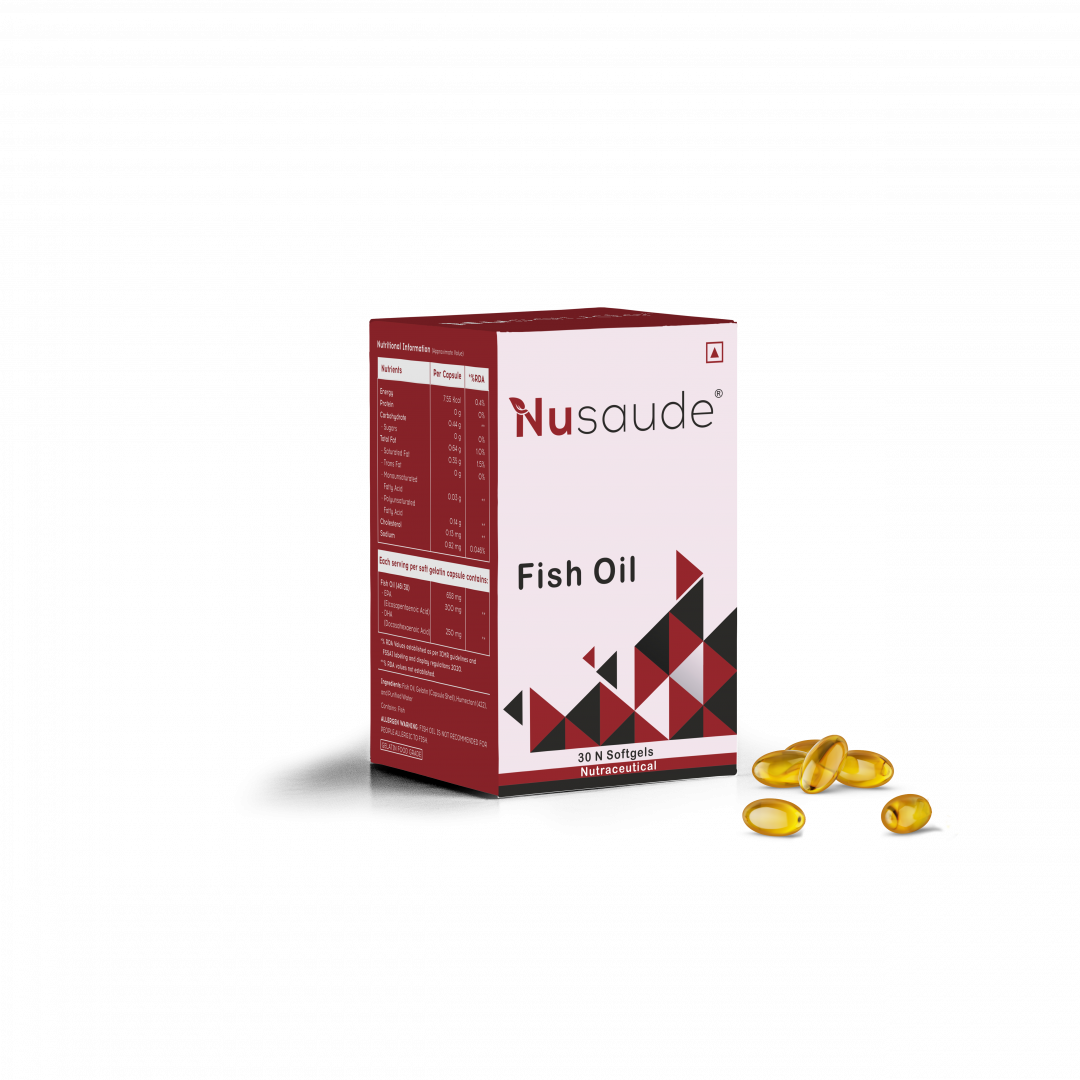 Nusaude Fish Oil Softgels
84% PURE FISH OIL
Omega 3 fatty acids are the essential dietary fatty acids not synthesized by the body & need to be supplemented through either diet or nutritional supplements.
They are key to the structure of the cell wall & play pivotal roles in maintaining homeostasis.
A lack of Omega 3 fatty acids is known to cause increased trans epidermal water loss, disrupt the protective barrier, dry skin, photo aging, hyperpigmentation & flaking of the skin & scalp & also increase hair fall. Recent studies have demonstrated the vital role of omega 3 fatty acids in skin & hair.
Fish is a rich source of Omega 3 fatty acids but seldom the requirement is fulfilled by dietary consumption & there the role of fish oil chips in. Harvard Health recommends 250-500 mg consumption of EPA & DHA in a day
Nusaude fish oil is extracted from smaller varieties like Anchovies as they are categorized as fatty fish due to their high Omega 3 fatty acids content, in particular EPA & DHA which are the most crucial ones. Smaller species are generally preferred as they are toxin & contaminated free & provide the best quality fish oil which is stable over the shelf life.
Maintains epidermal homeostasis
Reduces trans epidermal water loss
Nourishes skin & hair
Promotes barrier function
Reduces hair fall
Promotes skin & hair health
EPA 300 mg  + DHA 250 mg
Provides Photoprotection
Prevents Dermatitis
Evens the skin tone
Significantly reduces hair fall
Improves the hair diameter & density
84% pure fish oil containing 250 mg DHA & 300 mg EPA as per the daily recommended dose for Omega 3 fatty acids
Once a day dosing
Reformed triglycerides- The fish oil is esterified to maintain the stability & purity throughout the shelf life
What Is Different About Nusaude Fish Oil Softgels​

Temperature Insensitive- Unchanged at higher temperature

Stable- Airtight & free from oxidation

Palatable- Small Size Liquid Filled

Increased Compliance- Odorless, free from fishy burps Frequently Asked Questions
DHA stands for Docosahexaenoic acid (DHA) & EPA stands for Eicosapentanoic acid which are essential Omega 3 fatty acids. They play a role in functioning & maintenance of each body cell. Deficiency might lead to few medical conditions & it is essential to maintain optimum levels of DHA & EPA in body. It is safe for consumption.
It is suggested to seek your physician's advice in case of pregnant & lactating women
Yes, these are nutritional supplements and continued use will be beneficial for long term
It is best to seek your physician's advice before consuming Nusaude fish oil with other prescribed medications