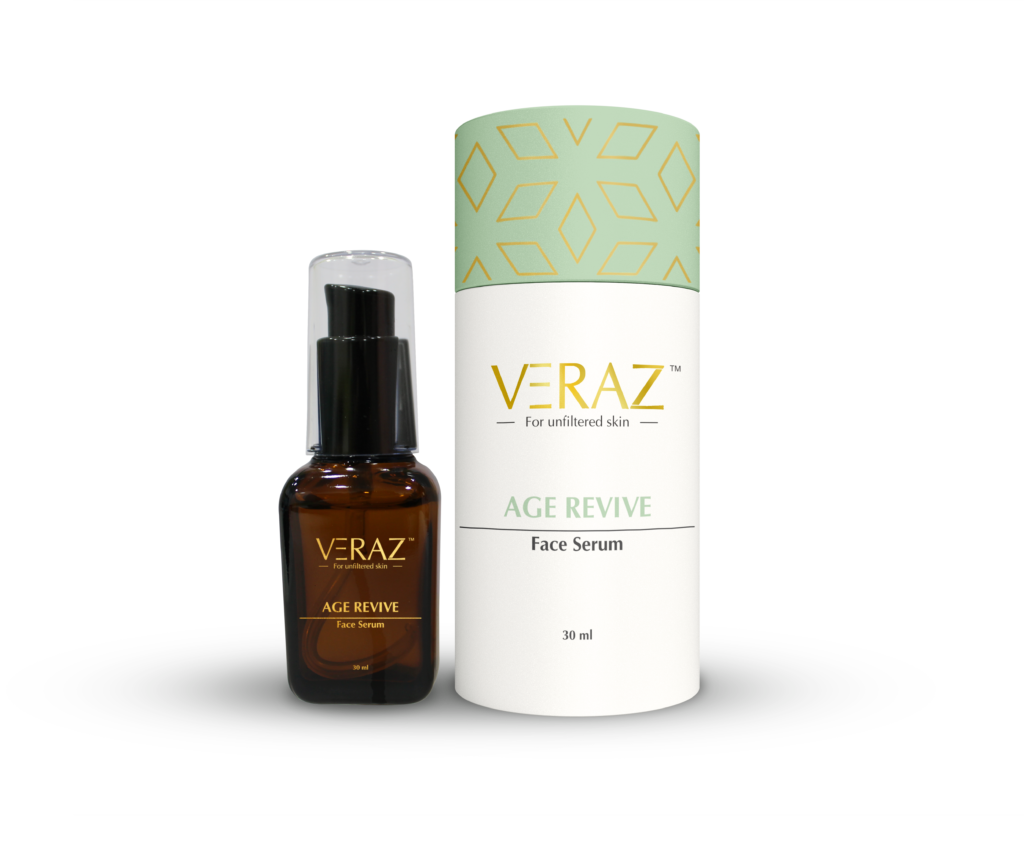 VERAZ AGE REVIVE FACE SERUM
Retinol is an age-old molecule, known as 'hardworking' molecule that can improve the appearance of skin. But it also comes with many concerns like stability, irritation, dryness, etc. 


Veraz Age Revive Face Serum is technically formulated with patented retinol, which provide the delivery of an optimum quantity of skin-friendly retinol for maximum efficacy.
Excellent wrinkle lifting properties
Enhanced stability and effectiveness of retinol
Provides skin moisturization and nourishment
Promotes natural barrier function
Helps in skin rejuvenation and fights signs of ageing
Rovisome® Retinol Moist
Wrinkle lifting moisturizer
A natural phospholipid based delivery system
Enhanced stabilization and effectiveness of retinol
Excellent wrinkle fighting property
Low skin irritation potential
Improves skin moisturization


 VitAlease® 7.0
Retinol encapsulated in natural wax
Improves bioavailability of retinol
Enhanced stability of retinol
Low skin irritation potential
Effectively reduce signs of ageing


AquaxylTM
The powerful patented combination, optimizes the skin's hydrous flow
Boosts and reinforces the synthesis of

Essential lipids and proteins involved in corneous layer
Dermal and epidermal HA and NMF


SepitonicTM M3
Multimineral cocktail of Magnesium aspartate, zinc gluconate and copper gluconate
Revitalizes and energizes skin
Anti-oxidant action
Smoothens deep wrinkles and skin texture
Bio-energizer for clear and fresh skin


Cranberry Extract
Contains high concentration of polyphenols and vitamin C and E
Fights free radicals
Minimize visible signs of aging & hyperpigmentation


Ginseng Extract
Excellent antioxidant and antiaging properties
Stress relieving property
Prevents UV damage
Supports skin rejuvenation
Smoothens the skin
Do a patch test prior to application
Avoid contact with eyes
Rinse eyes with plenty of water in case of contact
Frequently Asked Questions
Veraz Age Revive face serum can be applied during the night followed by sunscreen application on next morning. Take the appropriate quantity, dab it on face and massage well till it absorbs
The recommended age to start using the serum is 25 years and above
Yes, it is suitable for all skin types but not suitable for extremely sensitive skin. The serum is non-comedogenic and safe for use in acne-prone skin
It is recommended to use single serum in a day , 2 serums can be applied alternatively
Daily application will show visible results within a month
Store in cool and dry place, away from the direct sunlight